> >Interesting facts about albinos
Interesting facts about albinos
What is albinism? The word is derived from the Latin "albus" - that is, "white." This is a congenital disease, which is characterized by the absence of a special pigment in the skin, hair, and iris and pigment membranes of the eyes.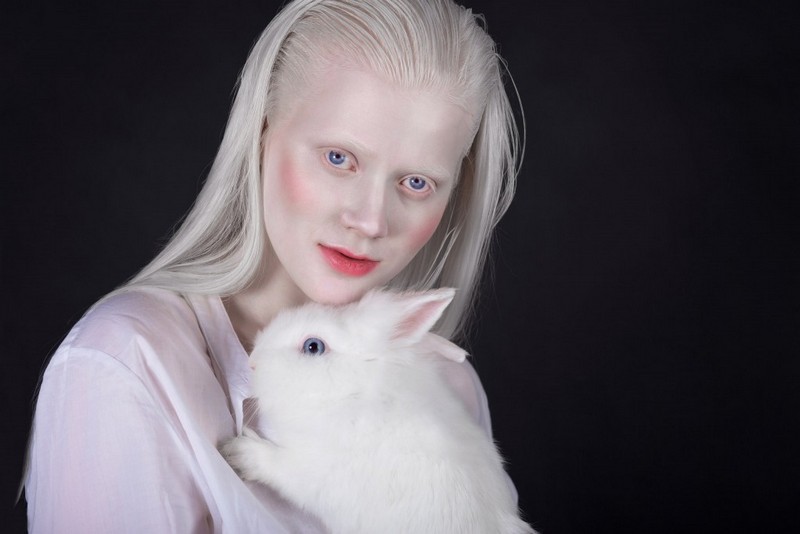 These people, not without a joke, can be called "white crows". They attract attention, stand out. For some, this is a gift, but for someone - a curse! Nevertheless, albinos are another reality of our life, which requires special attention, and most importantly - relationships!
1.
Statistics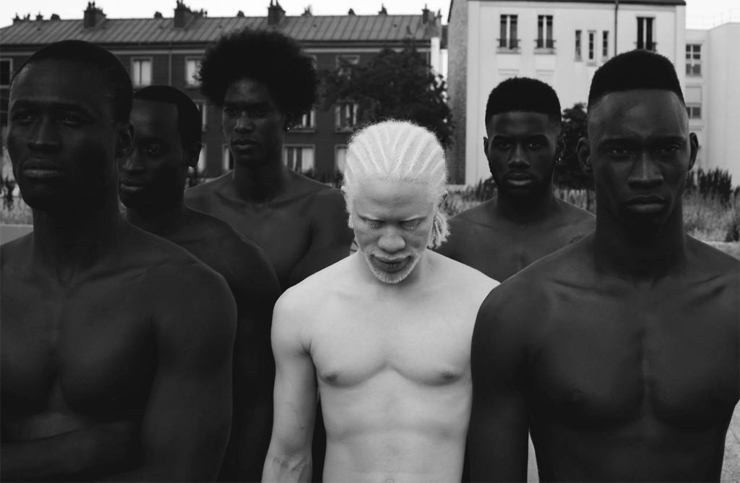 Statistics tells us about unusual things! Albinos are not at all uncommon among European nations; they account for about 1 per 20,000 inhabitants. What is most surprising, in the Negroid race such people are most common. If you look at this phenomenon on a global scale, then albinos make up 1% of the entire population of the Earth, and that, believe me, is a lot!
Thanks to the research of geneticists, today we can say that the human albinism gene itself is actually not uncommon, it is simply not active, as it is in a recessive position.According to estimates, approximately every 70th is its hidden carrier.
2.
Health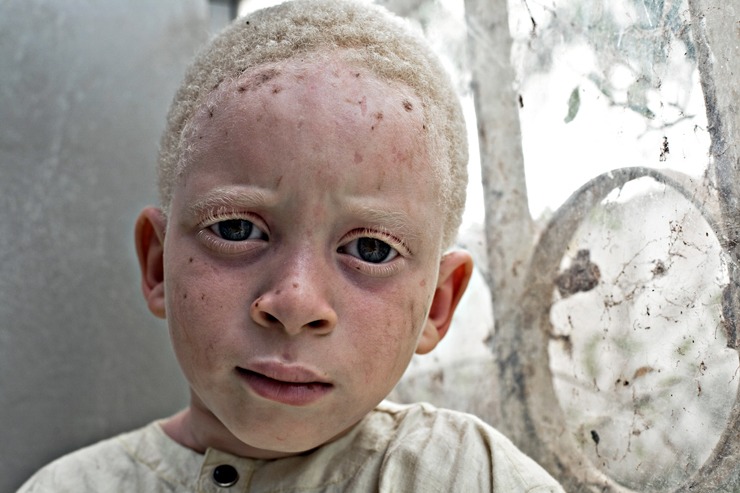 As already mentioned, the cause of depigmentation is the complete or partial blockade of tyrosinase, an enzyme necessary for the synthesis of melanin, which is responsible for the color in body tissues. The reason for this blockade is still unknown.
Depigmentation can be divided into two types - primary and secondary. Primary, or congenital, and secondary - acquired. As you may have guessed, the first kind is manifested from birth, but the second one is a full or partial depigmentation. If you are inspired by the appearance of albinos, then the second option may seem to you a great chance to stand out, however, lightening of the skin can only be achieved due to excessive exposure to solar radiation.
A difficult case for a person is full, total, albinism. It is characterized by a complete lack of pigmentation. Because of this, a person suffers all his life from photophobia, eye diseases (strabismus, reduced visual acuity, cataracts), sensitivity and dryness of the skin, which is prone to burns. Incomplete albinism is for the most part just a cosmetic problem.White spots may appear on the skin, gray strands, colorless eyelashes in the hair.
3.
Children of the moon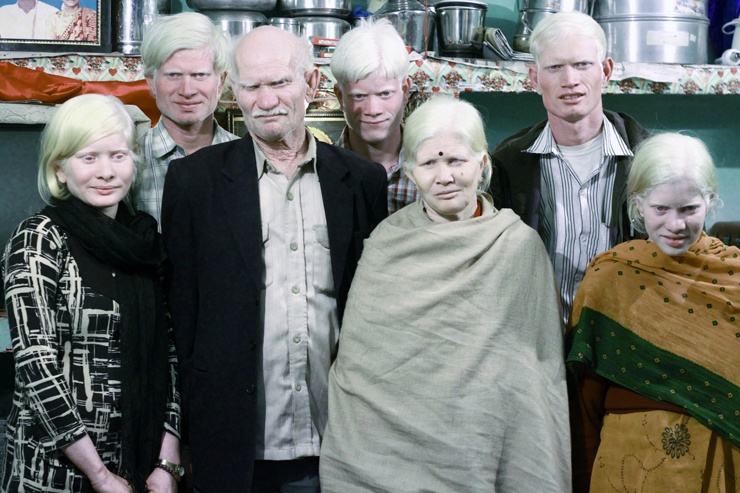 Albinos have always attracted attention, they are often demonstrated as "curiosities" in circuses. However, in small ethnic groups, albinism was common due to frequent kinship marriages. People with this disease were observed in 700 pedigree families.
Thus, the foci of albinism in Northern Ireland were identified. In Southern Panama, hundreds of albinos were found among the Caribe-kun tribe. Because of the tropical sun, which adversely affects the health of albinos, they had to be nocturnal, so they were called "children of the moon."
4.
Legends of the Vampires


It is no coincidence that this article contains this item. Albinos look very specific, their behavior seems even more strange. A hundred years ago, they provoked a violent reaction - from persecution to worship. They were gradually surrounded by superstitions and peculiar legends.
Albinos were compared to vampires. Indeed, it was believed that their eyes glow with an ominous red light. In fact, most, which include spotted albinos, have a light blue or grayish eye color.If redness was present, it was only because of the extremely weak pigment of the albino iris, which transmits the rays of light. Reflected from the retina, abundantly penetrated by blood vessels, the rays of light create a reddish tint.
Albinos also do not tolerate direct sunlight, due to the risk of getting cancer or a strong sensitivity to it. Undoubtedly, for ordinary people it looked strange and suspicious.
5.
Hunting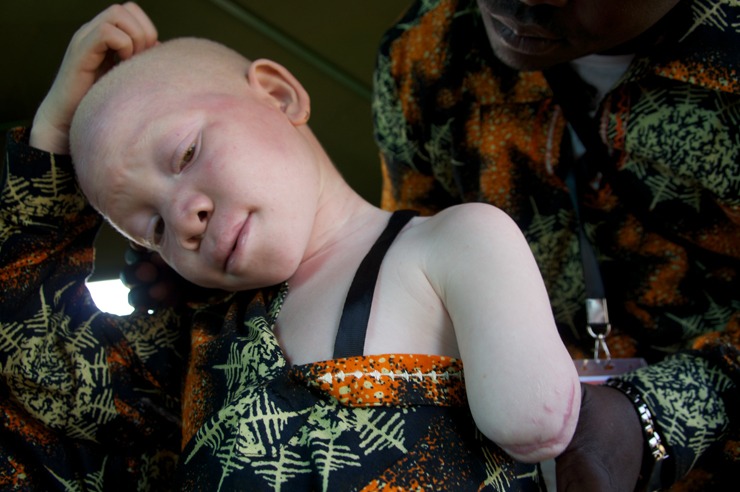 Because of superstitions, wandering among the people, albinos often become victims of "hunters" who sell parts of their bodies to black magicians, or to those who for some reason consider them to be a kind of panacea for the diseases of ordinary people. Naturally, in developed countries such a disorder is not observed, at least openly, but who knows what they sell on the black market ...
Talismans can become the hands and feet of white people. For example, an albino extremity in Tanzania is almost equal to or exceeds the value of forty average annual incomes. This figure can reach 75 thousand dollars.
6.
Famous albinos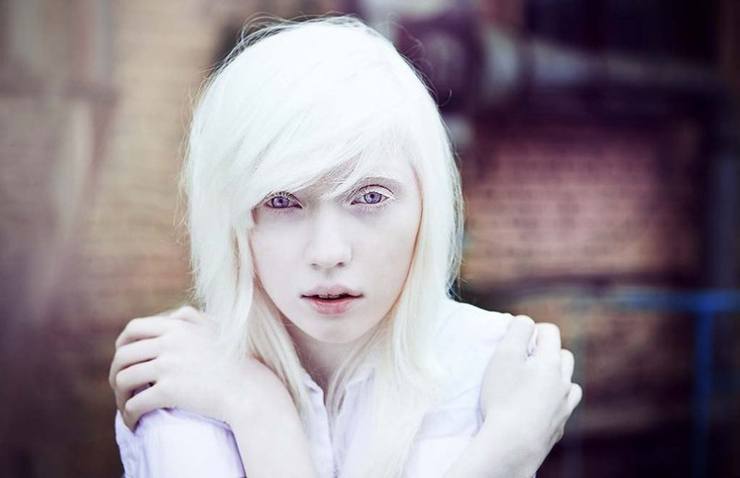 Gradually, albinists become the subject of mass culture.They are unusual, expressive, and this may well serve as a kind of admission to the fashion world. So, the first model of albino was Chinese woman Connie Chiu, even though she suffered a slight squint. She began her career at age 25, but not at all as a model, but on a reality show where she managed to "light up."
Two other models came out of the African-American environment. This is Diandra Forrest and Shaun Ross, the first albino male to become a professional model. Both all childhood suffered ridicule from their peers, received offensive nicknames.
Russia also has its own models! Suppose one of the most popular is Anastasia Zhidkova, whose photo you see above.
7.
Union colorless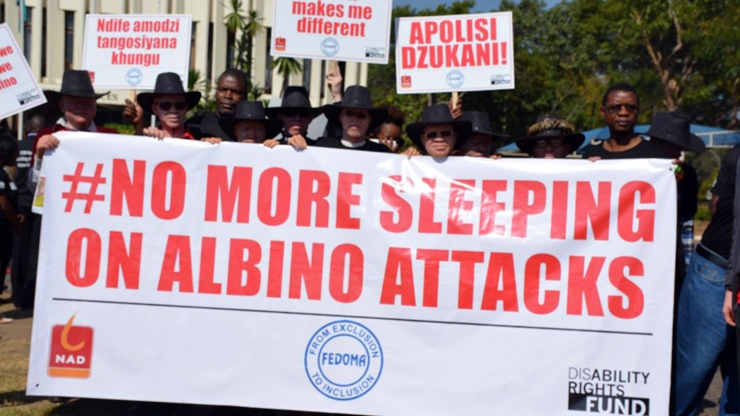 There are various unions-associations in the world. The Union of Bald, Redheads, etc., as well as the Union of Colorless, where albino people gather. In addition, various organizations around the world are beginning to emerge, defending the rights of such "minorities". For example, after two years of struggle, albinos of Malawi achieved the state registration of their organization Albino Association of Malawi (AAM). The reason was discrimination due to very light skin, which stands out from the majority. Members of the organization intend to draw the attention of the state to their problems.
Active members of the African Albinist Society are talking about creating a network of clinics that, in addition to providing medical care to adults, will also advise parents of albino children.
8.
Medicines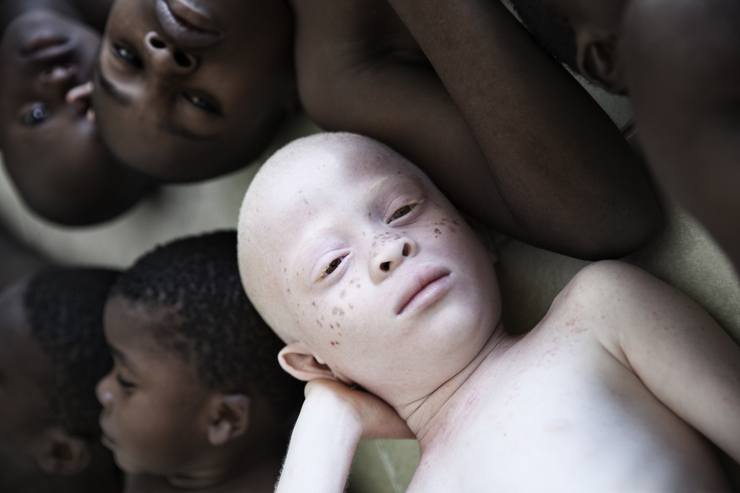 People with albinism do not die early. Moreover, the disease does not affect the growth and intellectual development of albino children, does not impair their somatic health. Often, albinism may be accompanied by mental retardation, but this is most likely a coincidence.
Health problems encountered by albinos include impaired vision, photosensitivity of the skin, increased risk of skin cancer, impaired blood clotting (bleeding easily develops and hematomas appear). With all this you can handle. You just need to try to avoid sunlight or use sunscreen and light-protective equipment, wear special glasses.
Unfortunately, the antidote to albinism has not yet been found. Scientists of our time can, of course, try to correct or replace the defective part of a gene with a normal one, but such operations cannot be performed on humans so far.After all, genes, as a rule, closely interact with each other, their change can damage the entire chain.
9.
Albino animals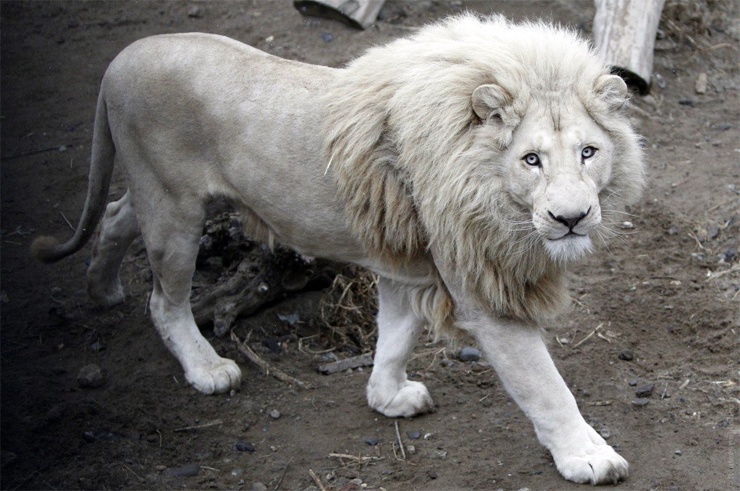 Yes, albinism is common among animals. This makes them incredibly fascinating, but they suffer no less!
So, the poor victim will be difficult to escape from a predator, because his coat will clearly be evident against the background of other relatives. Predators also become noticeable, so that hunting for them is extremely difficult. Recall that females choose the brightest and certainly not monotonous males.
By the way, animals also have the phenomenon of melanism, the opposite of albinism - this is an extremely high level of dark pigment.
10.
Anime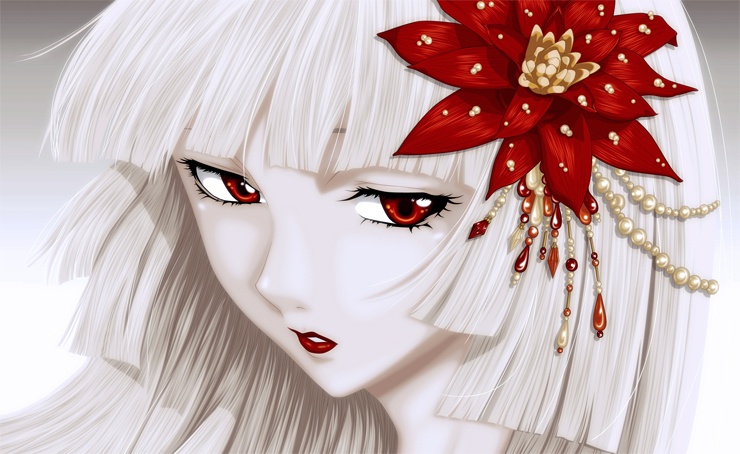 Naturally, this appearance is reflected in a variety of cartoons, especially in this genre, like anime! The characters are either already represented by albinos, or in some way acquire such coloring in the course of the plot. Usually they play the same roles that they occupy in superstitions: vampires, weak people, etc. In any case, they are covered by a veil of secrecy, they keep secrets that no one knows about.
Many anime fans will surely remember some of their idols! However, the cartoon remains a cartoon, because the physical problemswith which people are forced to live in reality are clearly missed by the authors of the plots.